Bedriftskomiteen i Berg
BK-Berg er bedriftskomiteen i Bergstuderendes Forening. Vi arrangerer bedriftspresentasjoner og faglige arrangementer for dere studentene. Vi er også ansvarlige for markedsføring av stillingsannonser. Ved å delta på bedriftspresentasjoner støtter du linjeforeningen!
Vil du være med i bedriftskomiteen? Vi har opptak i starten av hvert semester, men gjerne ta kontakt på bk-berg@bergstud.no om du er interessert eller har noen spørsmål! 
På- og avmelding
Påmeldingsfristen for presentasjoner åpner som regel 1 uke før de avholdes. Dersom du melder deg av for sent til presentasjonen får du prikk. Fristen er som regel 24 timer før presentasjonen, men kan variere, så les i arrangementbeskrivelsen hva som gjelder.
For å melde deg på en presentasjon må du logge deg inn på siden og trykke "Meld meg på". Det er viktig at du legger inn studentnummeret ditt og riktig klassetrinn for at du skal kunne melde deg på, samt at adgangskortet ditt benyttes for å registrere oppmøte.
Dersom du ikke møter opp på en presentasjon du er påmeldt til, vil du få to prikker.
Venteliste
Dersom en bedriftspresentasjon er fullbooket er det mulig å sette seg opp på venteliste. Ventelisten kan bli aktivert dersom enkelte påmeldte studenter ikke klarer å komme til bedriftspresentasjonen. Det er også mulig å melde interesse dersom du ikke er prioritert i påmeldinga. Send oss en mail så kan du få plass om det er ledige plasser.
Dersom du står på venteliste må du selv melde deg av dersom du likevel ikke har mulighet til å delta. Ofte får mange på venteliste plass på bedpress dagen før eller samme dag, så følg med!
Prikksystem
Sen avmelding slik at ingen kan overta plassen og du ikke har varslet fra gir 1 prikk.
Vi forventer også at dere møter opp mellom 5-15 min før en bedriftspresentasjon, og sent oppmøte slik at dette forstyrrer vil gi 1 prikk.
Manglende oppmøte dersom man er påmeldt et arrangement gir 2 prikker. Dersom du er blitt syk må du varsle fra på forhånd for å unngå prikker.
Dersom du får 3 prikker blir du utestengt av arrangementer med BK-Berg ut semesteret.
Det gir mye merarbeid for komiteen når noen melder seg av sent uten varsel, og vi risikerer at noen ikke rekker å ta plassen din. 
Vi har ikke samme prikksystem som Teknologiporten, men vi oversender prikker til samarbeidende linjeforeninger.

Teknologiporten
Teknologiporten er en bedriftskomité på tvers av linjeforeninger som arrangerer bedriftspresentasjoner for linjeforeninger samtidig. Bergstuderendes Forening er en av 7 linjeforeninger som "eier" Teknologiporten og alle i Berg kan søke om verv der. Dersom du vil bli med i Teknologiporten har de opptak hver høst.
Inntektene fra Teknologiporten sine bedriftspresentasjoner går prosentvis tilbake til linjeforeningene basert på oppmøte og registrering fra tilhørende studenter. Dermed er du med å støtte linjeforeningen både ved å registrere brukeren din der og ved å dra på bedriftspresentasjoner! 
Henvendelser om Teknologiporten bes tas direkte med de https://teknologiporten.no/nb/info/ . 
Er jeg påmeldt arrangementet?
Dobbeltsjekk arrangementbeskrivelsen og eventuelle mails du har fått om det ikke er gitt andre beskjeder om påmelding. Noen ganger må du også melde deg på via google forms.
For teknologiporten:
Dersom du er påmeldt via Teknologiporten så vil det stå "Meld av" på knappen.
Inne på "Profil -> Brukerinformasjon" får du oversikt over påmeldte arrangementer i TP. Husk også å melde deg av venteliste og meldt interesse dersom du ikke lenger kan komme.
Feil årstrinn eller studentkort
Du kan endre årstrinn og linje inne på teknologiporten en gang i semesteret. Hvis det er registrert feil, så ta kontakt med teknologiporten for å få endret dette.
For å registrere studentkort så er det et 10-sifret tall bak på kortet etter der det står EM. Teknologiporten har bildeeksempler inne på endre profil.
Dersom Teknologiporten ikke svarer på henvendelsene dine så ta kontakt direkte med en av medarbeiderne på IT i https://teknologiporten.no/en/info/. 
Eksterne arrangement
BK-Berg samarbeider med Teknologiporten og andre om markedsføring av relevante arrangementer. Vi legger til arrangementer på https://bergstud.no/bedrift/bed-pres/ og facebook-kalenderen.
Men, det er ikke vi som er ansvarlige for disse arrangementene. Henvendelser og tilbakemeldinger om dette bes tas direkte med arrangørene.
NB: Hvis du får prikker på bedpress med en annen linjeforeningen vil det også gi prikk i BK-Berg.
Hvorfor er ikke min linje invitert?
Det er bedriften som avgjører hvilke linjer, retninger og klassetrinn som blir inviterte. Dette har ofte med hva de skal presentere og hvilke stillingsutlysninger de har, slik at dere får se presentasjoner som er relevante.
Dersom en presentasjon virker spesielt relevant for deg men du ikke er invitert, eller om du er mellom linjer/tar flere fag så anbefaler vi å sende mail til den ansvarlige for arrangementet og forklare at du er interessert og at det er relevant.
For studenter ved yngre klassetrinn så anbefaler vi å melde interesse og følge med da vi ofte får lov å åpne for yngre studenter om det er ledige plasser noen dager før!
Teknologiporten-appen fungerer ikke!
Appen til Teknologiporten er nede for apple-brukere grunnet en oppdatering fra Apple. Nettsiden fungerer for påmelding også på mobil.
Ellers ber vi i BK-Berg om at henvendelser om teknologiporten tas direkte til Teknologiporten.
Ingen i klassen får til å melde seg på!
Noen ganger skjer det feil med påmeldinga og da kan det hende at ingen får til å melde seg på. Sjekk oppdateringer fortløpende i facebookarrangementet til bedriftspresentasjonen. Dersom dette er arrangement i regi av BK-Berg kan dere ta kontakt med arrangementansvarlig eller bedriftssjef på mail og telefon.
BK-Berg
BK-Berg is the company committee in Bergstuderendes Forening. We arrange company presentations and professional events for students at IGP NTNU (petroleum, geology, engineering geology). We are also responsible for marketing job advertisements like summer jobs. Company presentations are a great way to gain contacts and you also support your student organisation by attending! By attending company presentations, you support the student association!
Registration
The registration deadline for presentations usually opens 1-2 weeks before they are held, you will receive an email with more info before the registration starts. If you unsubscribe later than 24 hours before the presentation, this is a late cancellation and you must notify to avoid a penalty point.
To sign up for a presentation, you must log in to the page and press "Meld deg på". It is important that you enter your student number and the correct grade level in order for you to be able to register, and that your access card is used to register attendance.
If you do not show up for a presentation you are registered for, you will receive two points.
Waiting List
If a company presentation is fully booked, it is possible to put yourself on a waiting list. The waiting list can be activated if some registered students are unable to attend the company presentation. It is also possible to register interest if you are not prioritized in the registration. You do that by clicking "Meld Interesse" on Teknologiporten.
If you are on a waiting list, you must unsubscribe if you still do not have the opportunity to participate. IMany people on the waiting list often get a place on bedpress the day before or the same day, so stay tuned!
Penalty Points
We have a system of penalty marks/dots/crosses/points (prikker / kryss in norwegian) when someone doesn't follow our rules.
If you get 3 points, you will be banned from events with BK-Berg throughout the semester.
No-show = 2 points.
Late cancellation/de-registration = 1 point if no one can take your place and you haven't given notice.
Showing up late = 1 point. We expect you to show up 5-15 minutes before the presentation starts.
You will receive an email if you get penalty points. We do not have the same dot system as Teknologiporten
Teknologiporten
Registration via Teknologiporten

We use Teknologiporten as our registration system. The website isn't working in english yet unfortunately, but you can use chrome extensions or similar to translate.

Scroll down for tutorial on how to register for an event, how to create an user and frequently asked questions.

Email bk-berg@bergstud.no if you have problems.
Teknologiporten
Teknologiporten is an organisation with students from 7 student organisations, one of which is ours. They are a company comittee that arranges company presentations from students at multiple field of studies at the same time. The income from Teknologiporten's company presentations goes back to the student associations as a percentage based on attendance and registration from associated students. Thus, you are supporting your student association both by registering your user there and by attending company presentations!
How to create an user
Go to teknologiporten.no
Click "Logg inn -> NTNU: Logg inn" at the top right. Register with your NTNU Feide-account that you use for blackboard and such
After you have logged in, go to the top right and click your profile "Profil -> Endre Bruker" to edit your user. https://teknologiporten.no/en/edit_user/ 
The webpage will look like this: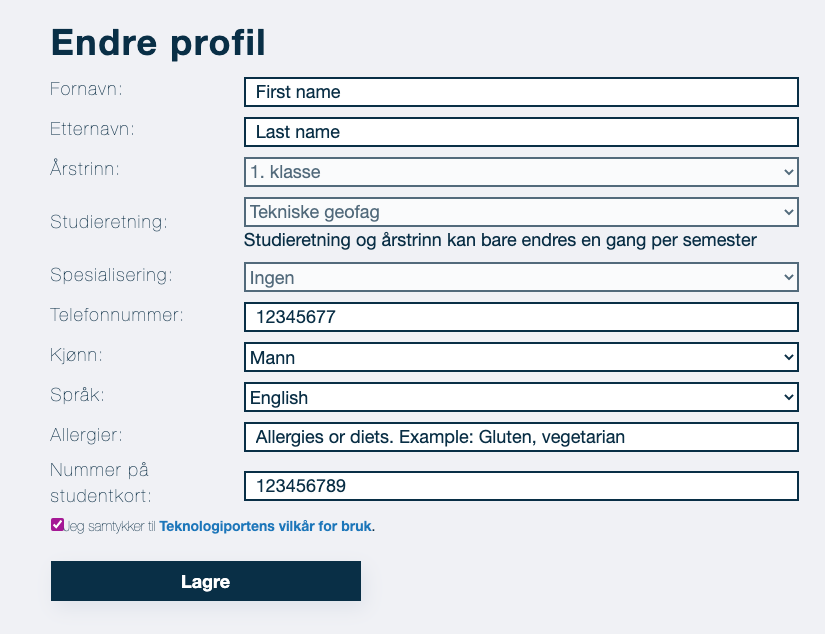 Put your full name.
For your year and field of study put:
Årstrinn = Year in degree
Studieretning: Example: International Master Programmes ITV
Spesialisering: What you are studying. Example: Petroleum Engineering/Petroleum Geoscience
Note: You can only enter the field of study once per semester. If it's wrong, contact the support field on the right. To registrate then then you have to click "meld interesse" on the registration and send an email to the event planners saying what you're studying.
Telefonnummer = Phone number
Kjønn = gender
Språk = Language. Choose English.
Allergier = Allergies or diets. Example: Gluten intolerant, vegetarian, pork
Nummer på studentkort = Number on your student card.
There is a picture on the website explaining where it is. Make sure the number is correct because then we can take attendance by scanning the card when you show up. We also can do it manually but that takes more time.
Note: BK-Berg will only see name, year/study, allergy and email to those who are registered for our events. We don't share your information with the companies who are presenting. Its also possible to delete your account at teknologiporten when you're finished with your study with their support.
How to register for an event
To register up for a presentation, you must be logged in to teknologiporten. Go to the event link and wait for the registration to open. When the registration is opened there will be a blue button saying one of three things: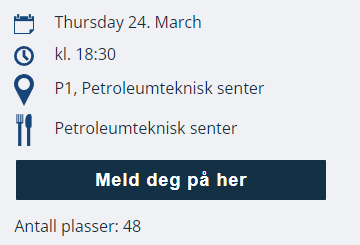 "Meld deg på her"
Register here
Press the button to register for the event. When you are registered it will say "Meld deg av her" without anything about waiting lists.

"Meld interesse her"
Register interest
"Your study program / year level is not invited to this event. If you still feel you should be invited, please contact the person in charge by email."
This can happen if:
Your study program or year isnt invited
You registered the wrong program or year
The event planner made some error. If that's the case click "Meld interesse her" and email the event planner and they will let you in.
The "Meld interesse" is kind of like a waiting list. The presentation may open for more study programmes or year, and then you may be let in. So remember to remove interest if you cant come by clicking "Fjern interesse."
FAQ: Frequently Asked Questions
Am I registered for the event?
Double check the event description and any emails you have received if no other notifications about registration have been given. Sometimes you also need to sign up via google forms.
For teknologiporten:
If you are registered via Teknologiporten, it will say "Meld av" on the button. Make sure you don't click the button and accidentally de-register.
Inside "Profil -> Brukerinformasjon" you get an overview of the events you have registered for in TP. Also remember to de-registrate from the waiting list and de-register your interest if you can no longer come.
Is the presentation in english?
If international students are invited then the presentation is in english. Most of the presentation for petroleum students are held in english to make sure international students can be invited.
If the event description is only in norwegian you can assume the event is in norwegian.
Will there be summer jobs / master opportunities?
Oftentimes there will be. We don't always get a clear answer before the presentation. No matter, its a great career oppportunity to talk with company representatives, hear about what it's like with their company and present yourself to them. Saying "hi" and talking with them is a sure way to make a good impression.
Wrong year or field of study
Student card scanning
For the scanning system with your student card to work you have to input the EM-number (10 numbers) on the back of your student card. At https://teknologiporten.no/en/edit_user/ there are example images of where to input the numbers. NB: Don't input the letters "EM", only input the number